The Armenians have an outstanding capacity to be united. Maybe this is because of this nation's tragic fate. The pains bring people together maybe more than the successes. Religion plays a key role for us. In the same way, the folklore, sad songs about the exile, the legendary figures of our history. In almost every corner of this world you can find a conational who will help you in your time of need.
Varujan Vosganian
The book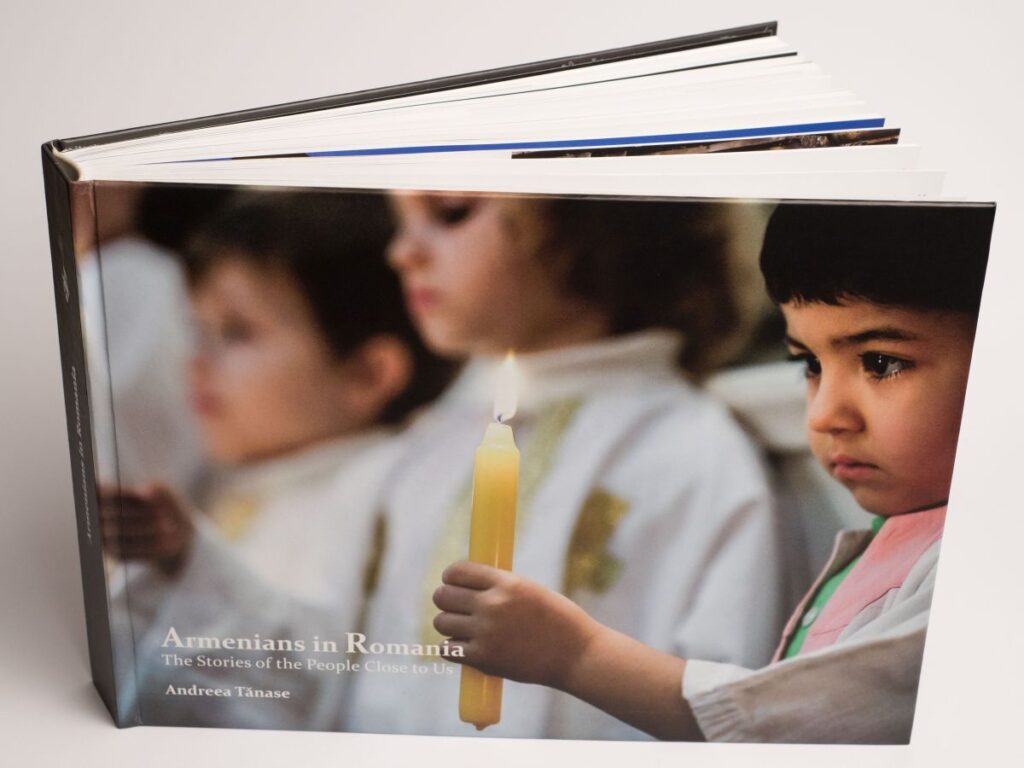 Author and photographer: Andreea Tănase
Format: Hardcover
Pages: 400
Illustrations: 561 Color images
Text: 148 pages
Edition: English
Dimensions: 315 x 236 mm, 12.40 x 9.29 in
Weight: 3 kg, 6,6 Ibs
Publication date: 2015
ISBN: 978-973-0-18328-3
Publisher: Self-published

Currently sold out.
The project
I began documenting the Armenian community in Romania because I was impressed with the Armenian Genocide stories I had read about. In Romania, certain historical realities are still silenced and consequently they are either absent or poorly presented in the educational curriculum. In the history books I studied in school, there was no reference to the Armenian Genocide, and in the current ones there is only a brief presentation.

Therefore, one may say I was inspired in my journalistic endeavor by the crimes from the beginning of the past century, known as the Armenian Genocide. I desired to talk to people of unspoken things and to tell the stories of the people next to us, the ones we look at and pass by every day. I also needed to know our past and history. A few months into my documentation, it became clear to me that the activities of the Armenian community in Romania revolve around the church, so I decided to get to know the Armenians during their moments of celebration. Because they are a small community with very few members in many cities, for most Armenians, the only opportunity to experience their traditions is through religious manifestations. This is why many of the photographs presented in this album have a religious theme.

During my journey through Romania I met descendants of the old Armenian families who came to our country with the first waves of immigration. Forced by the communist regime to hide their identity, they no longer know their language or traditions but are now eager to rediscover their roots. I met Armenians who have struggled to preserve their identity by reading and writing daily in the Armenian language, so they won't forget it. I met Armenians who had left Romania at a certain time of their lives and who return every year to reunite with the community and to take part in the main celebrations. I met Armenians who have recently moved to Romania, are happy to live here and have expressed gratitude for the Romanian hospitality. I met Armenians who dream of Romania and Romanians who dream of Armenia. I became very close to the Armenian community, I have made dear friends and I consider Armenians to be a part of my identity.

The book is a documentary project focusing on a part of the Armenian community's history in Romania. I captured Armenians living within their community, but also within their families. I concentrated on an Armenian family from Bucharest, deeply involved in the community's activities. With deep regret I mention the passing of some of the Armenians portrayed in the album, completing the life and death cycle, which is present in every story.

To complete this photo album, I traveled to 16 cities in Romania, the Republic of Moldova, Bulgaria and Armenia. The documentation phase lasted three years, from 2007 to 2010, during which I gathered the necessary material consisting of thousands of photos and dozens of hours of interviews.
The project map